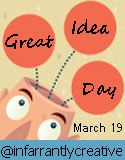 Join in on Great Idea Day at Infarrantly Creative by clicking the button above. Lots of good ideas to be found!
I'm sure some of you do this already, but I'm sharing it anyhow. I keep one of these bags on top of the hamper in each child's room and put socks in them. I've been doing this since they were itty bitty babies (well, they were each well over ten pounds at birth...but that is as itty bitty as my babies get!) and it has worked so well to keep their socks together. I especially recommend it for those teeny tiny baby socks. Now that my babies are four and six, it probably isn't quite as necessary as it once was. No more socks getting stuck inside shirts and getting "lost"!
This idea is leftover from my student teaching days. I label every puzzle piece in this house. This way if/when they get dumped out, it is easy for the children (not me!) to put them back in the right boxes. In this puzzle every piece has a "CG" on the back and then the inside of the lid AND the inside of the bottom also are labeled with a "CG". I try to give every puzzle a different letter or symbol.
I love this stuff. My daughter takes a cut apple with her every day to school and sprinkling this on the apple slices keeps them from browning. I've used this little bottle every school day since September and it still is going strong! I found it with the canning supplies in my local grocery store. It is by Bell and is called Fruit Fresh. Two enthusiastic thumbs up from me!
Do you have great ideas to share? I'd love to hear them!